BISHOP TONY D. COBBINS, D.MIN
Bishop Tony D. Cobbins, D.Min. was born on June 29, 1962 in Kansas City, Kansas. He is the sixth of nine children of Pastor and Mrs. Otis L. Cobbins, Sr. He attended elementary school at Henry C. Kumpf and graduated from Paseo High School in 1980.
God moved early in Bishop Cobbins' life and by the age of 21 he accepted his divine calling into the ministry. In his years of service to the Lord, Bishop Cobbins has worked diligently to bring others to Christ through prison ministry, street evangelism and over 200 revivals.
On June 13, 1992, Bishop Cobbins preached his first sermon as Pastor of Canaan Missionary Baptist Church. He was installed in July of 1992 by Pastor Otis L. Cobbins, Sr. of the Macedonia Missionary Baptist Church of Kansas City, Kansas. His appointment as Pastor began with a membership of 250 and under his leadership and divine teaching, Canaan's membership grew exponentially.
Bishop Cobbins has served as a Minister of Music and is an accomplished pianist, organist and vocalist. He received an Associate of Arts degree in Liberal Arts from Donnelly College, a Bachelor of Science Degree in Bible and Organizational Leadership from Calvary Bible College, a Master of Divinity from Midwestern Baptist Theological Seminary, a Master of Theology Degree from Midwestern and a Doctorate of Ministry degree, also from Midwestern.
As with all great leaders, Bishop Cobbins has been blessed with a beautiful helpmate, First Lady Mary Ann Cobbins, who works faithfully and tirelessly by his side. They, in turn, were blessed with five wonderful children.
Bishop Cobbins has the gifts of pastoring and leadership. He has five pastoring sons in the ministry and has mentored many more. In 2016, Bishop Cobbins submitted to the leadership of Apostle Larry B. Aiken. Apostle Aiken and Pastor Olivia C.Q. Aiken have been a great inspiration to Bishop and First Lady Cobbins. In 2017, he was ordained as a BIshop under New Vision Worldwide Fellowship of Churches.
This year, Bishop Cobbins will be celebrating 31 years of pastoral leadership at Canaan Worship Center! He is a certified life coach and owner/founder of The Shepherd One Enterprises.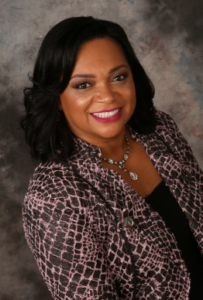 Ann Cobbins, a native of Kansas City, Missouri, is the devoted wife of Bishop Tony D. Cobbins and the First Lady of Canaan Worship Center in Kansas City, Missouri.
First Lady Cobbins has been on this Christian journey for a long time, exhibiting characteristics as one with a quiet and demure spirit while walking faithfully by the side of her husband. She exemplifies all of the characteristics of a virtuous woman and a chosen vessel of God. She has the heart and compassion for operating "outside the box" by helping to meet the spiritual needs of women from every walk of life. She also serves as the Director of Christian Education at Canaan Worship Center and is a key member of the Church's Planning and Vision Committee.
When she is not busy with the overwhelming tasks mentioned above, she volunteers her time and talent as interior decorator for the church.
As she continues undertaking the challenges that God has placed before her, she's ever mindful of her obligations of being a helpmate to her husband and their five children and five grandchildren.